Asset allocation :
Calendar year rebalanced
1825 to 1931 25% UK stock, 25% US stock, 50% cash. When the Pound was on a metallic standard (silver/gold), directly convertible at a fixed rate, it was reasonable to hold cash - invested in a bank/deposit account earning interest (UK T-Bills).
In late 1931 the UK broke off the gold standard (too much money was being converted for gold and the gold being removed from the country, a similar reason why the US broke off the gold standard in 1971). Asset allocation modification to 17% UK stock, 17% US stock, 33% cash (T-Bills), 33% silver (as US was still on the gold standard).
1972 onwards, after the US had broken off the gold standard, the same as the above, but with gold instead of silver.
Exceptions : All silver held during periods of World Wars (uncertainties of outcomes).
So since 1972 a asset allocation of a
third each in gold, UK cash/T-Bills, and a 50/50 US/UK stock blend
.
Performance :
After inflation total return (accumulation)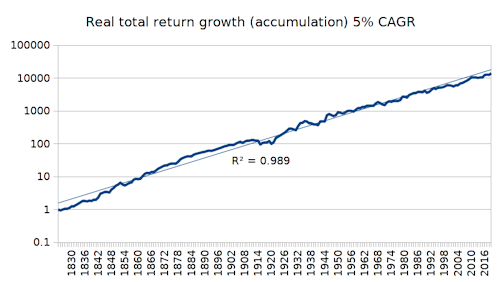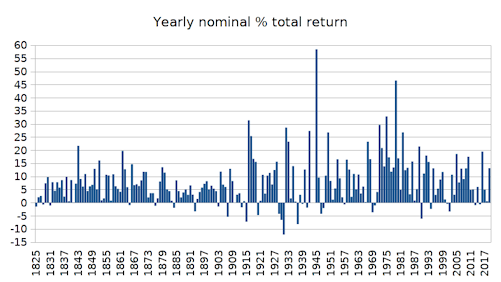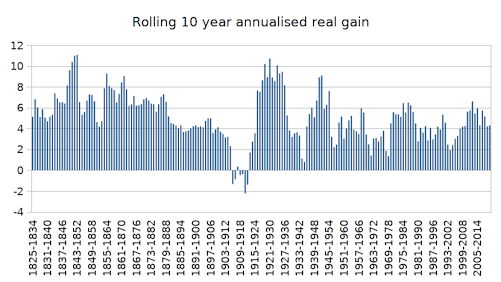 Notes : A more recent (since 1972) form of half weighting into a 33% US stock (US$ primary reserve currency), gold (global currency) blend, and half weighting into 33% UK stock and UK T-Bills (cash) (£). Neutral currency stance (half £, half foreign). Whilst holding a third each in stocks, bonds (T-Bills/cash) and commodity (gold).
Base data (note that 1871 to 1895 UK dividend yield data is n/a, so in the above charts I assumed a constant 4% UK stock dividend yield for those years).
Caveats :
Data is sourced from a wide range and the validity is unknown.
Gross total return values - excludes costs/taxes.
Suggestions :
Apply a low/safe SWR of 2% to provide part of income in a regular inflation adjusted manner, top slice additional real gains as and when apparent into a separate cheque account that is drawn from in a discretionary manner to supplement SWR income. Often fast/large gains will occur and top slicing some/all of those gains is appropriate.
Look to rebalance at/around fiscal year end (5th April) as the flexibility that provides in opting to rebalance in the old, new or a combination of both - whichever might be the more tax efficient.
Hold some of gold in physical, some in gold fund (lower trading costs)
Definitions :
SWR = the initial percentage of the total start date portfolio value that is drawn as income, and where that £ amount is uplifted by inflation as the amount drawn in subsequent years.
Notes :
Historically across all 50 year periods in the above data (calendar year granularity), income production would have been of the order 4% minimum, 5% average, whilst still preserving the inflation adjusted start date portfolio value. i.e. a common reward as per the widely anticipated 4% SWR 'rule', whilst bad years were relatively few and lost relatively little (a relatively comfortable year on year portfolio).
Summary :
Primarily a currency neutral, half £ half foreign asset allocation, diversified equally across stocks, bonds and commodities (gold is a form of global currency as well as being a form of commodity index holding). Where historic data/assets are revised towards what might more reasonably have been held in the past in reflection of circumstances evident at the time.